Property Overweight
Sector Outlook
Residential sales set to recover post-pandemic
Residential sales in the primary market have shown recovery following deep contraction in 2020 amidst pandemics. The improvement is particularly stronger for large houses as shown in Exhibit 1. In addition to low appetite, the main impediments to property sales in the period includes: i) higher prices of construction materials, ii) licensing/bureaucracy issues, iii) high interest rates on housing loans, iv) large down payment requirements and v) tax issues.
Exhibit 131: Residential sales growth based on size (%, YoY)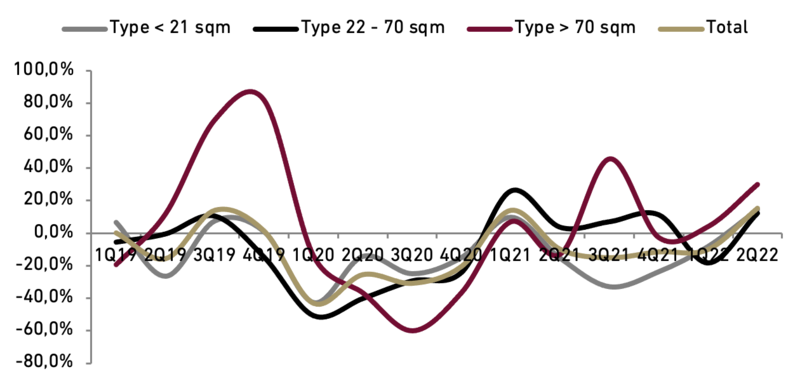 Source : BI
Residential sales remain strong especially for first-time buyers. Unfortunately, office space and industrial land largely took the hit and have not yet shown significant demand recovery. However, we are optimistic that with increasing vaccination rate, property market will bounce back in 2023.
Low interest rate supports residential demand
Indonesian Government maintained low interest rate to support property industry during the pandemic where only until August 2022, BI rate increased to 3.75%. Annually, growth of housing and apartment loans disbursed by the banking industry experienced a rebound since the beginning of 2021 (as shown in Exhibit 2). Unfortunately, shophouse and office loans growth still consistently negative for the last three years. We believe the low mortgage interest will continue to drive demand for residential property in 2023. On the other hand, commercial segment will take longer time to recover.
Exhibit 132: Property loans growth by segment (%, YoY)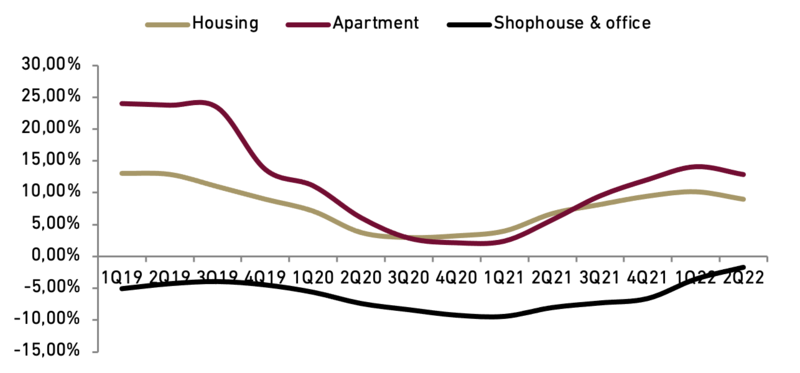 Source : BI and Ciptadana Estimates
Early signs of demand recovery in leased retail space
Demand growth for commercial property was already at low level pre-pandemic and continued the downtrend until early 2022. Abundant office space supply with construction already started prior pandemic, added pressure to office rental rates. Meanwhile, hotel occupancy rate and convention hall demand improved drastically post pandemic. There were early signs of improving demand in leased retail space as public activity in shopping malls began to return, although still below pre-pandemic levels.
Exhibit 133: Mortgage rates on the downtrend, supporting home purchase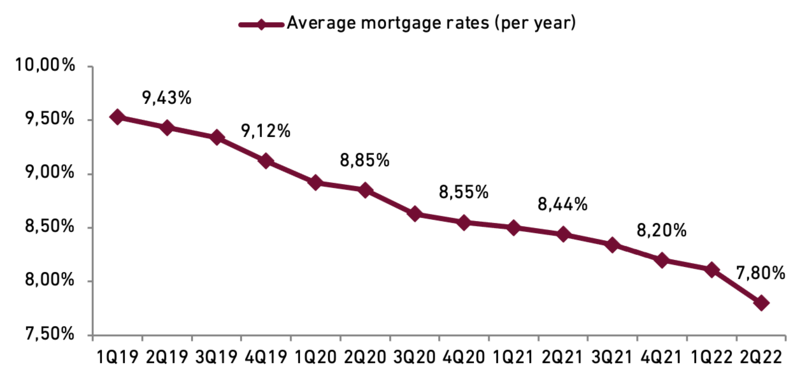 Source : BI
More customers opt for mortgage payment in 2022
Proportion of mortgage payment increased in the recent years on the back of lower interest rates. As shown in Exhibit 3, average mortgage rates declined to 7.8% p.a. in 2Q22, down by 163 bps compared to three years ago. Though the BI-7day RR slightly increased by 0.25% in last August, we believe it will not significantly impact the housing market though several buyers could likely to postpone home purchase following the hike. Historically, the sales of high rise residentials are more sensitive to changes in interest rates while landed housing relatively stable.
Asking rents have yet to display a discernible change
The office market in Jakarta continues to favor tenants. Average rent continues to trend downwards, although at a softer pace. Landlords are still being flexible in terms of lease extensions and potential new leases, including providing incentives. The average rent was recorded at Rp234 mn/sqm in 2Q22, a fall of less than 1% compared to Q1. Previously, the average rent had dropped between 1% and 2% per quarter since the onset of the pandemic. In outside the CBD, the average rent was registered at Rp177 mn/sqm in 2Q22, and has been relatively stable in the past three months.
There is as yet no strong catalyst for landlords to increase rentals, at least until the end of 2022. However, the operation of new buildings with better qualities will have an effect on the average rent calculation in the Jakarta CBD. Meanwhile in outside the CBD, with relatively low success in securing committed tenants, landlords are likely to keep rental rates at around the same levels in order to pursue healthier occupancy rates.
Exhibit 134: Lower rents due to soft demand; selling price is remaining resilient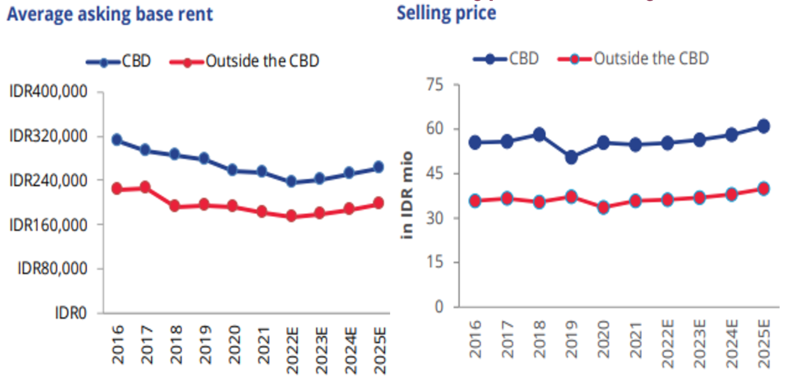 Source : Colliers Indonesia
Developers are not hurry to sell units unless offers are reasonable
The ASP in the Jakarta CBD remained at Rp55.7 mn/sqm. Vacant spaces for sale in the CBD are actually relatively limited and are mostly on the secondary market. The low sales volume has seen the ASP stabilize at a level expected to be remain up to the end of 2022 and we expect to continue in 2023. The same trend has been also seen in outside the CBD, where the ASP has currently been recorded at Rp36 mn/sqm.
Sub-leasing becomes an attractive survival strategy during hard times in the strata-title market. Some strata-title offices set more competitive rents compared to office under lease scheme. This is intended to immediately fill the vacant spaces and help landlords or unit owners cover service charge costs.
Exhibit 135: Mortgage rates on the downtrend, supporting home purchase

Source : Colliers Indonesia
Focus on sales price will follow
From the perspective of developers, another performance gauge is pricing. This might not be in line with the gradual land absorption, but we still see that this should be acceptable in the current situation, where the gradual increase in transaction volumes and land inquiries has had little impact on land price increases, although industrial estates with high levels of activity have adjusted prices slightly. Nowadays the focus is more on accumulating sales volume, while price will follow. Such a situation is what we have witnessed over the past few years. Developers are in a position to maintain the current price and be more accommodative in discussing terms.
For industrial estates with consistent sales performances but a shortage of land, there is likelihood that offer prices might be adjusted in the short-term, probably next year.
Land and industrial building rental tariff
It is still not the time for estates that focus on leasing to introduce new tariffs, despite the rise in leasing activity. Current rental tariffs for land and buildings will hold steady at least until the end of the year. The fundamental basis for tariff increases does not exist at this time.
Exhibit 136: Real estate FDI still on negative growth in 1Q22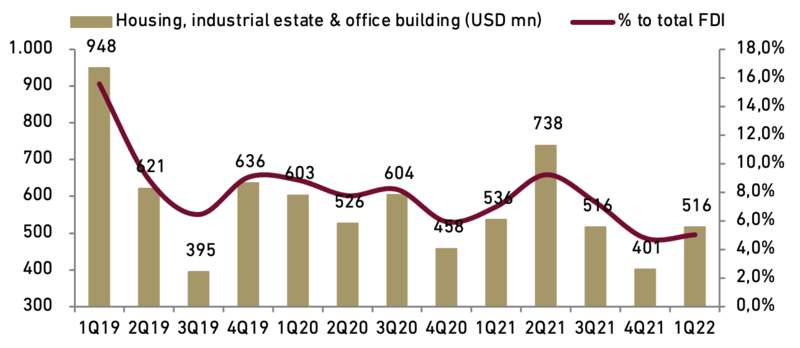 Source: BPKM, Ciptadana Estimates
We maintain OVERWEIGHT on property sector. Property stocks are mostly undervalued and mostly trading below their last year 5-year average discount to NAV. We pick developers with high exposure on affordable residential projects such as LPKR, BSDE and SMRA as our top picks following solid marketing sales made in 2022. ASRI and PWON will also benefit from pent up visitor traffic on recreational area and shopping malls post pandemic.
Exhibit 137: Property stock rating and valuation