Healthcare Overweight
Sector Outlook
Government allocates Rp169.8 tn Healthcare budget in 2023. We see healthcare budget declined compared to 2022, this due to the absence of Covid-19 budget. However, the regular budget still increased by 30.2% YoY. The regular budget is keep increasing since 2019, or at 4.7% CAGR over 2019-22. It indicates that needs for healthcare services and products in Indonesia are keep increasing, which offers opportunities for healthcare players.
Exhibit 183: Government Healthcare Spending

Source: Ministry of Finance, Ciptadana Sekuritas Asia
Single-Class Policy (KRIS) scheme.
Currently, there are three classes for JKN scheme, government plans to gradually merge these three classes into a standard class (class 2). By 1H23, 50% of MoH (Ministry of Health) hospitals are expected to implement the single class scheme (KRIS), by 2H23, 100% of MoH hospitals and 30% of other hospitals are expected to be ready for KRIS implementation. Going forward, in 1H24, KRIS regulation is expected to be implemented by 50% of RSUD (regional public hospital), Indonesian military/police hospitals, and private hospitals. Then, by 2H24, KRIS implementation is expected to reach 100% hospitals in Indonesia. We see there is positive impact to hospitals, as class 1 patients will be downgraded to class 2, as usually class 1 patients get 10 sqm room with maximum 2 beds, later on in class 2, they will get the same size of room but 4 beds/room. In terms of services, we expect they will be downgraded as well and receive the class 2 services. Hence, we believe the class 1 patients will take private services which will yield higher margins for hospitals. However, for class 3 patients that are upgraded to class 2, we see this will have negative impact to hospitals, as usually, class 3 room can be filled by more than 6 beds/room, later on will be only 4 beds/room under class 2. Thus, hospitals need to serve class 2 with higher fixed cost/patient, which is less profitable.
Exhibit 184: National Health Insurance (JKN) single class policy

Source: Ministry of Health, Ciptadana Sekuritas Asia
The Indonesia Case Based Group (INA CBG) tariff, or the amount of claim payment by Healthcare BPJS to hospitals and healthcare facilities for service package based on diseases diagnosis groupings and procedures has not been revised since 2016. In September 2022, Private Indonesian Hospital Association (ARSSI) addressed their concerned-on INA CBG tariff to Ministry of Health (MOH). The main concerned is based on Ministry of Health regulation no. 52 2016, regarding standard tariff on healthcare services in JKN program. ARSSI ask Ministry of Health for 30% increase on INA CBG tariff, as hospitals operational expenses are increasing every year. Moreover, fuel price hike, increase on minimum payment, and inflation are inevitable. These will burden the hospitals operator. We believe, Ministry of Health will consider this issue, and will revise the INA CBG tariff by 2H22 or in 2023.
More features from Basic Health Needs (KDK)
Government plans to add more features and coverages on KDK, such as, mandatory vaccines, screenings, and additional features for stunting prevention and maternal care. For mandatory vaccines, there are three vaccines which are, HPV (to prevent Cervical cancer), PCV (to prevent Pneumonia on baby), and Rotavirus (to prevent Diarrhea on baby). In 2023, Government plans to roll-out these vaccines to all provinces in Indonesia. Government also adds mandatory screening to detect the main cause of death which mainly came from cardiovascular, lung disease, and cancer. KDK also aim its focus on stunting and maternal care, there will be additional features and services such as, more frequent weight and development monitoring, more frequent USG screening for maternal care, these additional services are expected to be implemented by more patients in 2023 and 2024. We see these KDK initiatives to bring higher traffic to hospitals and may reduce the potential of BPJS deficit in the long run.
Patients' volume to keep increasing.
Post pandemic, the trend of patient volume is increasing, inpatient volume has reached the pre-Covid level. This due to returning patients to the hospitals, as during Covid, patients are afraid to go to the hospitals, and decided to postpone some medical treatments. In 2023, we expect patient volume to continue to increase, due to higher demand for healthcare services.
Exhibit 185: Inpatient Volume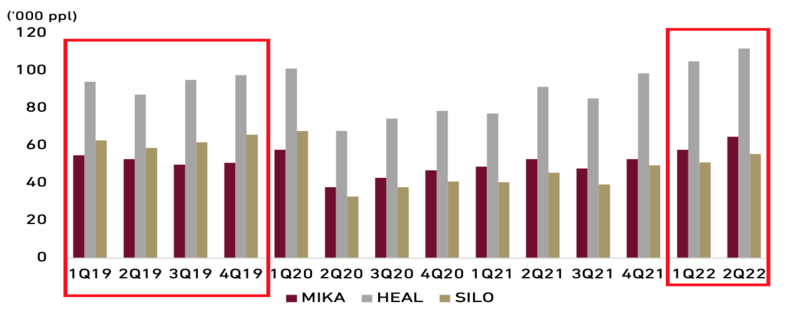 Source: Company, Ciptadana Sekuritas Asia
Increasing revenue per patient​
We expect the average revenue per patient to increase in 2023, as hospitals business is going back to normal since 1H22, and the revenue per patient will increase naturally, supported by base cases and high intensity cases such as, cardiovascular, oncology, orthopedic, maternity, and surgeries.
Centre of excellence to improve margins
We expect hospital players will keep developing and promoting their centre of excellence, in order to capture more patients, and to increase profitability. Usually, centre of excellence covers high intensity case such as, oncology, neurology, cardiology, fertility, urology, etc. Thus, will yield higher margins for hospitals.
Inorganic expansion and managed service hospital
We expect, the trend of hospital acquisition to remain persist in 2023, as it requires lower capex, and more efficient as the target hospital already have their market share and patient-based. In addition, there is also managed service business, which is a hospital managing another hospital operations with no capex investment, and received a fixed management fee. For example, SILO who manages Siloam Agora. We expect this can be followed by other hospitals as a new source of income.
Overweight rating for healthcare sector, with BMHS as our top picks.
We have Overweight rating for healthcare sector with BMHS as our top picks. We like BMHS due to its strong reputation as premium mother and child hospital, which will benefit from sustain purchasing power, also its Morula IVF (In-Vitro fertilization), which has the biggest market share, and deliver strong margins. We have a BUY rating for BMHS with 2023F DCF-based TP of Rp950/sh.
Exhibit 186: Healthcare stocks rating and valuation

​